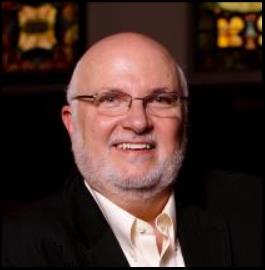 Jon Moss – Pastor
Phone: 319-651-4883
Email: jon.moss@iaumc.net
A Word from Pastor Jon
There are those times in life where we find ourselves in places or situations that we don't want to be.  We struggle with work or projects that are not working out, financial challenges, family issues, or those things that are just not working out like we envisioned.
Where is God in all of this, we ask?  Part of that question comes from a false belief that somehow as a Christian the struggles in life will go away.  There is no biblical or theological foundation for that belief.  Jesus teaches us in Matthew 7:21-29*1 about self-deception and the association between hearing and doing the word or acting on the word.  He said it is like a wise man who built his house on the rock and a foolish man who built his house on the sand.  When the storm came, as they always do, the house on the rock had a solid foundation and was able to withstand the storm, while the house on the sand did not withstand the storm.  We understand the importance of having a firm foundation that helps us in life. But we overlook the fact that both the house of the foolish and wise man experienced the storm.  We are not protected from the storms of life, but we do not go through them alone and we have confidence that whatever comes our way, Christ walks with us.
In my life, as I look back at tragic and difficult experiences, I have come to see that over time I have grown and matured in my faith because of those experiences.  They were still painful and at times when I recall them I still feel personal pain from some of them.  I truly believe that God does not waste any of our experiences when we have committed our lives to him and are following Jesus Christ. The challenges that we face can be instruments that help us to grow beyond where we are and into where God is leading us, even if that was not the purpose of those events.
We may not understand all the "why's" of the circumstances we find ourselves in, but we can trust in the hidden work of God that prepares us for a leap forward in our developing faith. These moments can be as M. Robert Mulholland calls a "small part of what has been going in a long, steady process of grace, working far beyond our knowing and understanding, to bring a spiritual awareness and a new depth of wholeness in relationship with God in Christ." *2 May it be so in all of us.
God is doing a good work in us and God has more in store!
Faithfully yours,
Pastor Jon
*1 The Discipleship Study Bible: New Revised Standard Version, Including Apocrypha (Louisville, Ky.: Westminster John Knox Press, ©2008), 1709-10.
*2 M Robert Mulholland and R Ruth Barton, Invitation to a Journey: a Road Map for Spiritual Formation, revised and expanded. ed., Transforming Resources (Downers Grove, IL: InterVarsity Press, 2016), 25-27.